While we can use any equipment specified by customers and/or engineers, we prefer the superior products and support provided by Pentair products. From their innovative variable speed/variable flow technology to their user-friendly automation, sanitization and filters, Pentair is simply the best choice to power your pool and spa.
---
PUMPS
---
Standard for pools without spas or water features:
SuperFlo® – Efficient, Quiet, Rugged and Versatile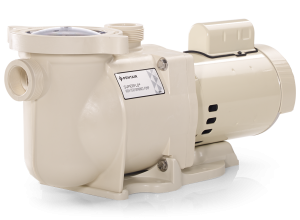 The SuperFlo is specifically designed to be the best choice for a variety of inground pools. SuperFlo features thick walled body parts, a heavy-duty 56 square flange motor, and highly engineered hydraulics. Its silent running capability and small footprint allow it to easily drop into a compact equipment pad.
2-speed SuperFlo pump models are now ENERGY STAR® Certified: meets strict energy efficiency criteria set by the U.S. Environmental Protection Agency and the U.S. Department of Energy
Extremely quiet operation
Unionized fittings (1.5 in. internal slip and 2 in. external slip)
Cam and Ramp™ Lid
Integral volute and pot reduce hydraulic noise
---
Standard for pools with spas OR water features:
Use the Residential Pool Pump Savings Calculator provided by Pentair
IntelliFlo® i2 – The Energy-efficient, Compliant Solution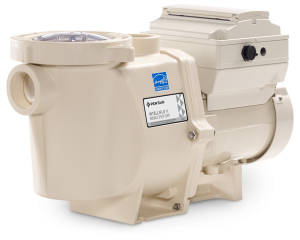 IntelliFlo i2 pump is hydraulically engineered to provide maximum performance on a 15-amp breaker. It has a maximum rating of 11.8 amps, which makes retrofits easier in applications that are limited by existing wire gauge size. Energy efficient, automation ready and technologically advanced—now that's a smart choice.
Permanent magnet motor runs cooler, produces less vibration than induction motors
Totally enclosed fan-cooled (TEFC) design protects against the elements
Built-in diagnostics that detect the most common causes of premature wear and tear—loss of prime, overheating, freezing and voltage irregularities—protect the pump for longer service life
Improves the efficiency of automatic chlorinators and chemical dispensers, because water moves slower for longer periods of time
Heavy-duty/durable construction is designed for long life
---
Standard for pools with spas AND water features:
IntelliFlo® VSF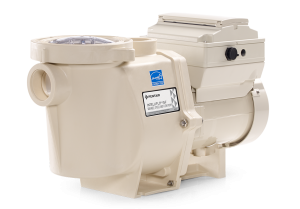 The IntelliFlo VSF pump provides precise flow control, which means increased efficiency, savings and performance. The pump's innovative dual-technology design ensures the desired flow rate is maintained, no matter the conditions. Plus, the IntelliFlo VSF pump helps the rest of your equipment perform exactly as it's meant to—from filters to laminars to waterfalls. The IntelliFlo VSF variable speed and flow pump is just another in a long line of innovative products from Pentair.
---
FILTERS
---
Clean & Clear® RP – The Most Efficient Single-cartidge-filter System Ever

The Clean & Clear RP Cartridge Filter has a side-entry port, which provides nearly 50% more efficiency than any other single-cartridge filter available. Inside, the Clean & Clear RP filter has increased cartridge surface consistency to block and trap particles as small as 20 microns. The result is picture-perfect pool water and lower energy use.
Super-efficient cartridge is easy to remove and rinse
Low-force, quick-connect diamond-seal fastens easily with no tools required
Chemical-resistant tank body
Drain and wash for quick and convenient maintenance and winterization
Easy turn lock ring
Note: Actual system flow will depend of plumbing size and other system components.
Note: Pentair Aquatic Systems does not recommend flow rates above 150 GPM.
*Integrated Continuous High Flow™ Internal Air Relief is operational only when there is unobstructed flow in the circulating system.
Note: Operating limits—Maximum continual operating pressure of 50 psi. Pool/spa (bather) applications, maximum operating water temperature (internal filter) 104° F (40° C).
---
LIGHTING
---
Standard Lights:
Amerlite® – The World Standard of Reliability for Pool Lighting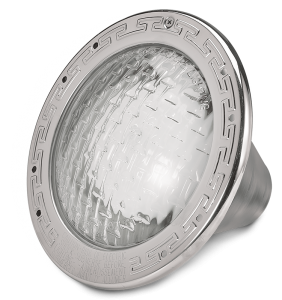 Amerlite, the world standard of reliability for underwater lights, features a stainless-steel shell, a 8.375-in. prismatic tempered glass lens and a stainless-steel face ring with uni-tension clamp. Amerlite systems are UL Listed to install in full-sized Pentair, American, PacFab and Purex niches.
World standard of reliability
Superior light diffusion
Low water cutoff
Lens covers available in blue, red, green and amber
Plastic snap-on face rings available for stainless-steel lights
All Pentair UL Listed underwater lights are certified for use in fresh water with up to 6,000 ppm salinity.
Note: All 120-V pool and spa lights must be connected to a branch circuit protected by a ground fault circuit interrupter (GFCI).
Note: All cord lengths over 50 ft. on 12-V lights create resistance that dramatically reduces the light output. This condition exists on all low-voltage lights regardless of design or manufacturer.
Notice: Underwriters Laboratories has listed Pentair Water Pool and Spa Inc. lights for use with Pentair Water Pool and Spa, Pentair Pool Products, American Products, Purex or PacFab niches only. To ensure proper grounding/bonding connections, install only Pentair Pool Products lights in Pentair Pool Products, American Products, Purex or PacFab niches.
---
Upgraded Lights:
IntelliBrite® 5G – The Most Energy-efficient LED Pool Lighting Available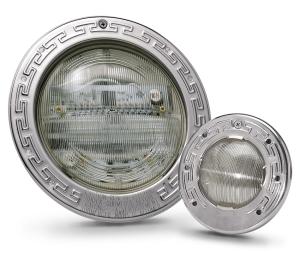 The incredibly efficient IntelliBrite 5g color-changing lights are made up of combinations of individual, colored lights that are automatically sequenced at varying speeds, producing a vibrant spectrum of hues. The superior design allows for uniform light intensity and color while avoiding hot spots and glare.
Pool lens can be rotated to 180° to provide wide beam pattern (standard) or narrow beam pattern
IntelliBrite technology makes use of the brightest and most energy-efficient LEDs available in underwater pool and spa lights
Consumes up to 50% less energy than competitors' lights
Choose from 5 predetermined fixed colors (blue, green, magenta, white and red) or 7 popular preprogrammed "color shows"
Designed to work with IntelliTouch® and EasyTouch® Control Systems
Backwards compatible with first generation IntelliBrite lights
Available in 120-V and 12-V versions
All Pentair UL Listed underwater lights are certified for use in freshwater with up to 6,000 ppm salinity.
Note: All 120-V pool and spa lights must be connected to a branch circuit protected by a ground fault circuit interrupter (GFCI).
Notice: Underwriters Laboratories has listed Pentair Water Pool and Spa Inc. lights for use with Pentair Water Pool and Spa, Pentair Pool Products, American Products, Purex or PacFab niches ONLY. To ensure proper grounding/bonding connections, install only Pentair Water Pool and Spa Inc. lights in Pentair Water Pool and Spa, Pentair Pool Products, American Products, Purex or PacFab niches.
---
GloBrite® Color LED Lights – Add Brilliant Multicolor LED Lighting to Shallow Water Areas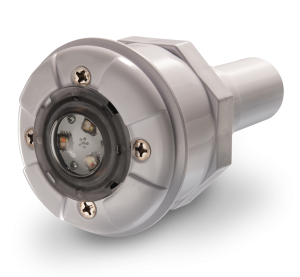 GloBrite lights utilize the industry's most advanced technology to showcase and enhance your pool's shallow water features, making your poolside evenings go from great to spectacular. Not only are GloBrite lights quick and easy to install, they are also the brightest and most efficient LEDs available.
5 brilliant fixed colors; 7 dazzling preprogrammed light shows
The perfect complement to IntelliBrite® 5g LED Pool Lighting for dynamic, synchronized colored light shows
Compatible with IntelliTouch® and EasyTouch® Control Systems
Can be used with an optional IntelliBrite® Controller
Does not require grounding or bonding for quick and easy installations
All Pentair UL Listed underwater lights are certified for use in freshwater with up to 6,000 ppm salinity.
---
 SANITIZERS
---
Standard:
RainbowTM – The Easy Way to Sanitize Large Pools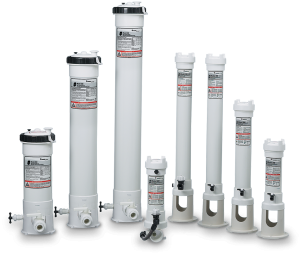 These heavy-duty, high-capacity feeders provide automatic sanitization for residential or commercial pools up to 658,500 gallons. All sizes operate effectively and efficiently with slow-dissolving trichlor or bromine tablets.
300 and 320 Series filters available in clear amber for easy tablet level monitoring
Completely enclosed system—no special venting required
No escaping gases
50 PSI maximum operating pressure
Inline feeders
320 Series—for permanent installation in return line of new or existing pools or spas; installs in return line on pressure side of pump downstream of all equipment; standard with 2-in. slip PVC fittings and adapters for 1.5 in.
Offline feeders
300 Series—retrofits into existing pools or spas; operates on pressure side of pump; uses 0.25-in. feeder hoses, control valve and fittings
Note: NSF listed for public or residential use in swimming pools, spas or hot tubs using 1-in. trichlor tablets and when used with a flow indicating device such as Rainbow Model #R172080. Output rating for Bromine is not NSF certified for 300 and 320 Series feeders.
---
Salt Chlorine Generators – Upgrade:
Use the Salinity Calculator provided by Pentair
---
iChlor® – Ordinary Table Salt. Extraordinary Technology.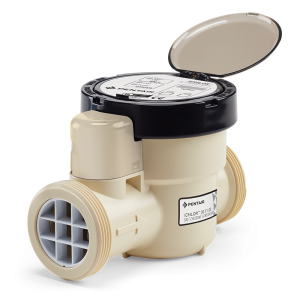 The iChlor Salt Chlorine Generator features smart technology that provides built-in intelligence for unmatched convenience and control. Just add salt to generate all the chlorine your pool needs. iChlor produces a steady stream of pure chlorine for softer, silkier pool water. It's the easiest and most effective way to maintain a sparkling clean pool.
---
Intellichlor® – Turn Table Salt Into Water-purifying Chlorine

IntelliChlor uses common table salt to produce all the chlorine a pool needs, safely, effectively and automatically. It provides the same sanitation performance as harsh chlorine additives without the drawbacks. There's no need to buy, handle and store chemicals.
Full diagnostic capabilities, including cell-life tracking that communicates remaining hours of cell life in real-time
Push-button operation and easy-to-view displays enable fast checking of salt levels, cell cleanliness, sanitizer output and water flow
Automatic shut-off feature protects the unit and prolongs cell life under low-water-temperature conditions
On-time cycling prevents calcium and scale buildup to maximize cell life
Communicates with IntelliTouch®, EasyTouch® and SunTouch® Automation Systems
---
Automated Sanitzer – Upgrade
IntelliChem® Water Chemistry Controller – Keep Your Pool Water Perfectly Balanced With Hands-free, Automated Ease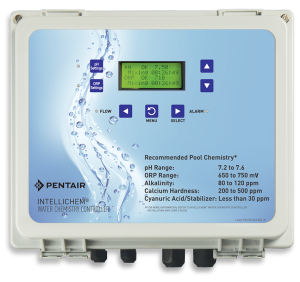 Keep the pH and chlorine levels of your pool in constant balance. The IntelliChem® Water Chemistry Controller does it automatically by monitoring your pool's pH and sanitizer levels and delivering just the right amount of chemicals—all without you having to handle any harsh chemicals.
Auto Setup/Configuration wizard makes start-up quick and easy
Programmable chemical feed cycle and mix times for precise water balance
Assures safe water conditions by preventing excess chemical addition
Built-in Langelier Saturation Index calculator lets you know if your water is in balance
Minimizes chemical costs by adding chemicals with precision
Flow sensor ensures chemicals won't feed without system flow
Password-protected access prevents tampering or accidental program change
Seamlessly interfaces with IntelliTouch®, EasyTouch®, SunTouch® and ScreenLogic® Automation Systems, so it's simple to use
---
HEATING
---
Standard for pools without spas:
No heating options come with standard pools without spas
---
Standard for pools with spas. Upgrade for pools without spas:
UltraTemp® 108,000 btu – Simply the Most Economical Way to Heat Pools and Spas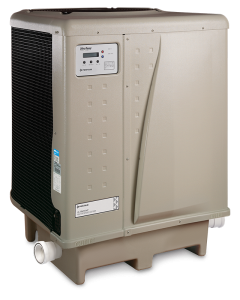 Heat your pool with an environmentally friendly heat pump. Pentair's UltraTemp heat pump uses an ozone-friendly refrigerant and has a 100% pure titanium heat exchanger that assures corrosion-free performance for extra-long life.
LCD control board displays an intuitive, menu-driven readout with easy to follow, full-word messages—no more codes
AutoSet (time clock override) feature monitors water temperature and turns the water circulation pump on and off as needed to maintain desired pool temperatures
Automatic defrost feature senses refrigerant temperature and prevents UltraTemp from freezing, allowing the heat pump to operate at even lower temperatures
Compatible with all automated control packages
Long-life, corrosion-resistant plastic composite cabinet stands up to severe climates and pool chemicals
Emerson Copeland Scroll Compressor on 60-Hz, single-phase models
ETL listed for safe operation
Thermostatic Expansion Valve (TXV) controls refrigerant flow for optimum efficiency and BTU output over a wider operating range
Highest efficiency available—meets or exceeds existing codes and standards
BTU and efficiency performance independently certified by the Air-Conditioning, Heating and Refrigeration Institute (AHRI)
---
AUTOMATION
---
Standard for pools without spas:
Intermatic T104R 24-Hour Mechanical Time Switch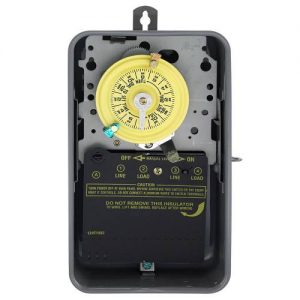 The T100 Series mechanical time switch has proven it can stand the test of time. These dependable time switches can handle electrical loads up to 40 A per pole and allow for up to 12 ON/OFF operations per day. A manual override switch provides added convenience.
Features
Direct 24-hour control of most loads
Up to 12 ON/OFF operations each day with minimum ON/OFF times of one hour
Manual override
One ON and one OFF tripper included
---
Standard for pools with spas. Upgrade for pools without spas:
EasyTouch® PL4 & PSL4 – Economical Automation for Standard Pools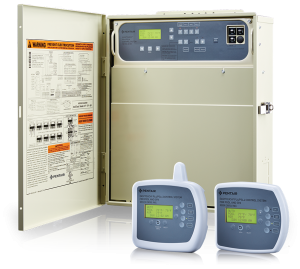 EasyTouch PL4 and PSL4 control systems provide economical yet sophisticated control over filtration, pumps, lighting, chemical management and more. The EasyTouch PL4 system is designed for a single body of water, while the EasyTouch PSL4 system is designed to control a pool and spa combination. These systems work with the ScreenLogic2® Interface for full control via computer or mobile devices.
Controls filter and pump functions, plus 3 additional pieces of equipment, allowing you control of up to 4 operating schedules or programs
Also interfaces with lighting, water features, heaters, heat pumps, spa control, chemical control and sanitizing equipment
Supports 4 operating speeds of 1 IntelliFlo® Variable Speed Pump, 3 colored lights and 2 feature circuits
Push-button operation and clear, intuitive instructions and displays make it a cinch to use
All circuitry and fully programmable controls are centralized in a power center installed at the pool equipment pad
Models available with our ScreenLogic® Interface for PC or Mac® computer, iPad®, iPhone®, iPod touch® mobile digital devices, or Android™ device*
Available options include EasyTouch PL4/PSL4 wireless remote, indoor control panel, iS4 spa-side remote and QuickTouch® II Wireless Remote
*Mac®, iPad®, iPhone® and iPod touch® are registered trademarks of Apple Inc. in the United States and/or other countries. Android™ is a trademark of Google, Inc.
---
Upgraded Automation:
IntelliTouch® – Advanced Automation Systems for Pools and Spas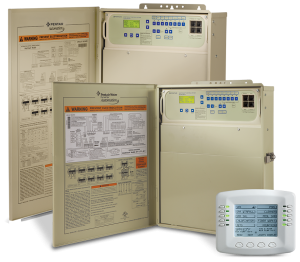 IntelliTouch automation offers superior control systems from simplest to the most ambitious pool and spa designs, including water features and spectacular lighting effects. IntelliTouch systems offer innovative technology and a wide range of wireless and wired control panels that are easy to program with simple menus.
Easy Operation
An IntelliTouch control system takes the work out of scheduling and operating pool and spa heating, filtration and cleaning cycles. It also gives you one-touch control over additional features. Plus, an IntelliTouch system makes sure all your equipment operates at peak efficiency for minimum energy usage and cost.
Cost-Saving Control
Pinpoint control over equipment operating schedules saves money. Plus, you can take advantage of off-peak electrical rates, when available. And, by only running equipment and accessories as much as needed to keep your pool and/or spa in top condition, you prolong the life of your equipment. IntelliTouch also lets you control money-saving variable speed pumps and solar heating systems.
Flexible Control Options
IntelliTouch systems offer a number of individual and multiple wired and wireless control devices for the ultimate in freedom and flexibility. Plus, you can use a MobileTouch® Wireless Controller or add an optional ScreenLogic Interface to access your pool remotely using many popular mobile digital devices.
Customize Control With Personality Kits
You select one of IntelliTouch's Personality Kits based on whether you want to control a separate pool or spa, a pool/spa combination with shared equipment or a pool/spa combination with separate equipment. Your Personality Kit determines the type and number of equipment and accessories you will control.
---
PRODUCT REGISTRATION AND WARRANTY
---
Submit your product registration to Pentair
View warranty information and download forms
---
COMPLETE PENTAIR PRODUCT CATALOG
---
Don't see the equipment you're looking for? Download the complete 2018 Pentair Product Catalog here!